business for nearly 18 years. Having started in the field washing fences and decks, Tracy understands some of the daily challenges of the industry. He
has seen many new businesses start and then fail because they didn't start with a solid foundation of knowledge. Don't let this happen to you; order
your guide now for $39.99 + shipping.


Part Number: 10000


$39.99 + Shipping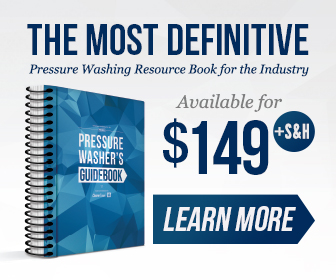 This guidebook is written by the folks
at Cleaner Times. Cleaner Times is
recognized in the power wash industry
as a reliable and accurate source of
information.

The publication is THOROUGH. From
start to finish, it is jam packed with
information that goes beyond the
operation of the unit and the chemicals
and cleaners. The guidebook includes
information on starting and operating a
business, marketing, important
documents, branding, social media
and so much more.

If you need a more comprehensive guidebook, this is a super-awesome option. It is more expensive. That is a fact and no way to get around that fact.
BUT....if you want additional, comprehensive information on creating and operating a business along with the ins and outs of the power wash industry,
then we highly recommend this guidebook.


Copyright © 2012-2016 North American Pressure Wash Outlet
3427 Springdale Forrest Circle
Gainesville, Georgia 30506
All Rights Reserved.

It's Wood Season!!!! Are You Ready??

As your residential customers begin to call for their annual house washing, wouldn't it be great
if you could offer additional services such as wood restoration? Let us train you to clean, strip
and refinish exterior wood like fences and decks.

Spend a day with us and learn from an industry-recognized wood expert. Tracy Handl has
worked with wood since his early high school days and that continued as he worked on a deck
and fence crew in the field. It was during this time, that Tracy became adept at restoring wood
to its original beauty.

Wood restoration can be lucrative. It can also be costly if mistakes are made due to
inexperience or just a lack of knowledge. You can avoid that by learning to do it right from the
start.

Make plans to attend a hands-on Wood Class April 8, 2017. Located on the shores of Lake
Lanier, Gainesville, Georgia is a quick ride from the metropolitan Atlanta area and
Hartsfield-Jackson International Airport.

After a quick breakfast, spend the morning learning the technical stuff. It won't be a stuffy
lecture. We will relax and learn in a fun and educational environment. After a hearty lunch, we
will put the morning's information to use in a hands-on environment with learning stations for
each step of the process.

Space is limited so reserve your spot early. Tuition fee for the class is $350. Reserve your spot
for $75.00